What to know all about Salehoo from someone who's been a member for over 9 years?
Not only that but I've been an eBay Powerseller, an Amazon FBA reseller and built eCommerce sites, but I love finding great deals on products people love and then figuring out the best way to resell those products for a profit!
Also, if you have any questions that don't get answered in this review or in the Q&A below, please don't hesitate to leave a comment and I'll be happy to do my best to answer 🙂
I first started selling items on eBay back in 2003. Back then I would find things around the house to sell that I no longer needed or wanted. Personally, I found it very exciting selling things online. I loved the thrill of seeing how much an item would go for when I listed it using the auction format.
Creating an amazing customer service experience has been something I've always loved doing so I found eBay was a great play for me to practice this skill. Whether it was following up on an order or creating a listing that would help people make an informed decision, it was my mission to give people one of the best eBay experiences possible!
I remember seeing other sellers on eBay with the coveted Powerseller status and remember thinking how amazing it would be to achieve that… to me it was like reaching a sort of celebrity status on eBay! haha 🙂
Ultimately though, I started getting frustrated by not having a consistent source of products that I could resell for a profit. I was limited to the "deals" I could find online or hunting around town at stores like "Ross." Clearance items can be great for reselling. For example, I remember finding these quality leather belts on clearance that I would then turn around and sell on eBay for $20. I was like "Whoo-HOO!! this is GREAT!!" But the challenge was that you can't always depend on being able to get items consistently this way.
This led me to DHgate which functions like a wholesale directory of products produced by Chinese suppliers. Now when I started using them, there were a lot of items that were fake (or imitations as the suppliers liked to call them). So at first, I was VERY excited because they were selling items like P90X for $20 a piece which could then be resold on eBay for $70 – $100. Cha-CHING! But… I learned that they were actually fakes.
When you're selling fake merchandise there is more than one way to get yourself in hot water. First, if you get caught by Customs, that can land you in some hot water. Also, someone can complain on eBay or the company itself can make life miserable for you by getting you involved with lawyers (not fun).
Now I know there are people that have gone down this road and made several thousands of dollars. Some then stopped before they got caught, while others pushed it too far and ended up worse off than before they started. Personally, i don't think it's a risk worth taking.
My In-Depth Salehoo Review
Finding products you can resell honestly and ethically is the way to go, and that's were Salehoo came into the picture for me. As I started researching my options for finding wholesale companies to purchase from, Salehoo kept popping up as a possible option. Even though there's a cost to join, the fact that they have a "60 Day Money Back Guarantee" gave me peace of mind that if it wasn't helpful, I could always get a refund. So I decided to give it a try and check it out.
To give you a quick bit of background on Salehoo, Mark Ling is the original owner who started this company. When I first became a member, I really didn't know much about him but I can say that he is one of the better, more honest and ethical marketers out there. Unfortunately there are a lot of marketers who are purely driven by making as much money as possible, no matter what they have to do or say to get it. But Mark Ling is one of the few marketers out there that seems to genuinely try and create value for people.
So not knowing any of this before joining, I figured I'd jump in and hopefully this new membership would help be create a more prosperous future! I set a goal to find at least one company initially that would provide a consistent source of products that I could resell for a profit. I started out emailing and calling about 10 companies a week and within three weeks I had found not just one but 2 companies! I was pretty excited about that 🙂 Not only that but both of these companies were really cool to work with and gave me some tips on reselling their products that they had learned from other resellers.
Now I think it's worth mentioning that while it's possible I could have found these companies doing a Google search, it would not have been likely. A lot of these wholesale companies are horrible at SEO or trying to doing anything that would help them get found in the search engines. So normally, people might find them if they go to different trade shows or subscribe to certain industry publications. It wasn't long before I starting seeing that this is the value of having a Salehoo membership. They actually go out and find these companies for you and add them to their directory (which they're constantly updating).
If you've ever felt the rush of having some success making money online, it can create a LOT of excitement! And that's exactly what happened to me. I though, "HURRAY!! I've finally found something that works!!" So I started putting more and more effort into contacting more companies. Eventually I contacted over 2,000 companies (by phone and email). Most of them were in the US but many were overseas as well. As a result of doing this, I learned a TON. Not only about buying and selling products online, but also about the pros and cons of using Salehoo to help with this.
Benefits of a SaleHoo Membership
In 2017, Salehoo made some pretty significant enhancements which I'll talk about in more detail below.
But even since initially joining Salehoo, I can say there are a lot of benefits to joining that go beyond even the wholesale directory. For anyone who's truly interested in reselling products online, the membership can easily pay for itself. The thing to keep in mind though is that it does take work on your part to get some value out of it. Here are several of the things I have found valuable and very worthwhile about joining:
1. Professional, Friendly and Helpful Support
One of the stand out features of being a member is how attentive and supportive the staff are. You have lots of ways to interact and ask questions, whether it's in the forum, sending a private message or submitting a support ticket. Something I appreciate and value a LOT is when people genuinely care and that's something that I've always felt from the staff at Salehoo.
For example, at one time I was getting serious about selling costumes online so I asked them for some ideas and help with that. One of the staff members actually compiled a list of companies for me to contact even though that is something I'd normally just expect to have to do on my own. To me it meant a lot because that saved me the time and having to go through and create that list myself.
2. Helpful Forum
Over the years I've been actively involved with a number of different forums (especially in the internet marketing niche) and a lot of them are really hit or miss as to how helpful they are. In fact, many can leave you more confused between all the conflicting information or lack of knowledgeable input from someone who really knows what's going on. Fortunately I've found the Salehoo forum to be really useful. Whether it's a comment made my a staff person or just another member, you can learn a lot by getting involved with the forum.
As an example, I mentioned earlier how dealing with fake or imitation items can get you into a lot of trouble. When you're first starting out it can be stressful trying to figure out whether certain items might be fakes or not. Fortunately, I found the forum had a lot of great advice from staff members to help you steer clear of selling these types of goods. Ultimately, it's a pretty simple thing to avoid doing once you get a little guidance from those who've been down that path or have a lot more industry experience.
2. Super Huge Wholesale Directory
This is obviously the best part, and what I think most people join Salehoo for in the first place. They have a TON of companies in their directory. It seems like just about anything you could think of reselling, there's a company for in there for that somewhere.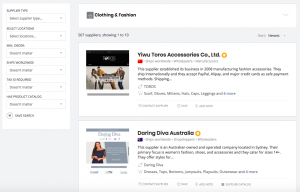 In fact, when I was going through and calling hundreds of these companies I would often come across some that offered products to resell that I would have never though of. And again, that's what's so great about having access to all these companies is that they're all in there, in one place for you to work through. Obviously it won't happen overnight, but if you make a point of diving in and contacting these companies, then you'll be surprised and what you find!
I also really love how they've organized their directory in such a way that you can sort through the thousands of companies really fast and easily. So if you just want companies that offer drop shipping, you can sort by that. Or if you want companies located in a certain country, you can sort them that way as well. They also let you filter by companies that don't require a tax ID#, whether a minimum order is required (or you can set the minimum order amount you're comfortable spending) and now you can even choose to just look at companies that have uploaded a product catalogue!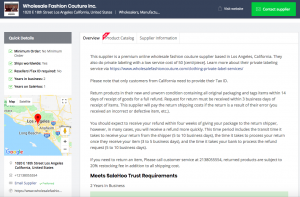 When you click on an individual company you get a nice detailed report about them which includes things such as: minimum order quantities (if they have any), how long they've been in business, how they handle returns, or whether they ship internationally. This information is what saved me a TON of time because I didn't have to contact all these companies to find that out on my own.
For example, lets say you want to start out drop shipping only and don't want to mess with purchasing products in bulk to store at your home or warehouse. Or if you don't want to work with a company that charges too much to handle a return. Rather then have to call or email a company to confirm whether they offer drop shipping or how they handle product returns, you can just check out their company profile on Salehoo and save yourself a lot of time.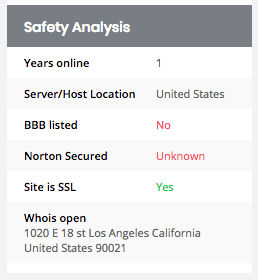 There's even a safety analysis section which provides information about how long the company has been online, whether they're part of the Better Business Bureau, their "Whois" address or physical location and where their server host is located.
Just as a side not, even if a company hasn't been in business that long and isn't a part of the BBB, it doesn't mean I wouldn't work with them or contact them. How I handle those situations is I first would see if there's a more reputable company offering the types of products I'm looking to resell. But if I'm not finding a good option then I might consider reaching out to that company.
I've had that happen MANY times where I'll reach out to call a a company like this and talk to the coolest people who are totally passionate about their products and so thrilled and willing to work with you. That being said, it's worth being cautious, but I just wanted to encourage you not to disregard those companies.
4. Company Profile Reviews
This is another REALLY cool feature. A lot of the companies have reviews written by an expert, such as an eBay Powerseller. This person will tell you what it's really like to work with this company. You'll get a sense of how good this company might be to have as a supplier before you ever contact them yourself. You can learn more details about the application process or whether they're ok with you reselling their products on eBay or Amazon. Sometimes they'll even give you examples of product pricing.
This can be super helpful because many wholesale companies don't post their wholesale pricing so that just anyone can see it. You often have to apply and get accepted as a supplier before getting access to this. Here again, you can save yourself a ton of time by using these company reviews to get a sense of whether a company might be worth your while or not.

They also added a new feature which allows you to "Bump" or make a request to have one of these reviews done 'sooner than later' for any company you're especially interested in. So if a company you're interested in knowing more about, hasn't had one of these in-depth reviews written yet, you can make a request so that they can 'bump' your request to have that written ahead of the pack.
5. Market Research
There is a whole section of your membership that helps you to easily discover profitable products. Each week the staff will scan and research popular products that could be sold online to save you time trying to go and do that yourself.
This is an example of an area that was enhanced in 2017. You can filter products by category (ie. electronics, home, kitchen, jewelry, etc.), sell rate and then competition level. For example, I just did a fresh search today in the Toy's & Games category looking for products with low competition that have a sell through rate of at least 75%.
One of the products I found are the 5mm Neocubes. I then clicked on the "competitors" link to see what the competition looks like on eBay. I see there are only a handful of people offering these and they're all from China! So this could be a great opportunity for me to offer these products for someone only wanting to deal with a US supplier.
I then click on the "supplier" link where I'm taken to the "Toys and Games" category within Salehoo. From here I can see there are over 563 suppliers. So next I begin to narrow down the list by choosing suppliers that offer drop shipping and are located in North America. So now the list has narrowed down to 116 suppliers. I can continue to narrow down my list until I have a comfortable list to start with and then I can contact those companies to see if they offer this particular product and go from there.
So the Market Research Lab is a powerful tool for anyone who's looking for some ideas to get started with. If you have a category you want to sell in you can start there, or if you don't care you can just go through each category one by one until you find some products that look good to you. Either way, this is a very cool feature to have in addition to the wholesale directory.
6. Special Articles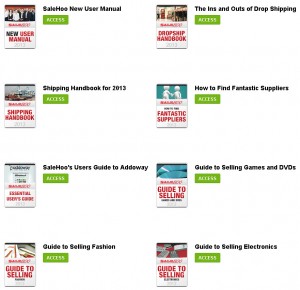 Sometimes there will be featured articles written by a staff member or eBay Powerseller to help teach or train on some topic related to buying and reselling products. I remember one of the articles was especially helpful to me because a Powerseller took the time to outliner her research strategy for finding new products to sell and make a profit with. As a result, I learned about a cool new research tool that I had never heard of before.

7. Additional Education and Training
Overtime, Salehoo has added an education and training section which has all sorts of information related to getting started as a drop shipper or buying products wholesale. What I loved most about these is you can get a snap shot of what reselling in a particular niche might be like.
For example, if you're thinking of getting into the fashion clothing niche you might want to better understand the pros and cons of reselling these types of products. It's a great way to get a heads up before committing a bunch of time into reselling a particular type of product, only to realize later on what the downsides are.
8. Supplier Catalogues (New for 2017)
Now that we're in 2018, this is still one of my favorite new features that Salehoo added and it keeps getting better over time. Because in the past, I would have to contact suppliers individually and many times I would even get a new account created with them in order to view their catalogue and wholesale pricing.
This is what I found to be one of the time consuming parts of this whole process. Because I would often take the time to call and talk to a company, then take the time to complete an application, then wait to be approved. Many times I could be approved and checking out their catalogue within a day or two but sometimes it would take a few days. Then I'd go and view their catalogue and pricing only to find out it wasn't really what I was hoping for.
So what Salehoo has started doing now is including these wholesale or dropship pricing catalogues directly within the directory. They are continuing to work with suppliers to help get more and more catalogues added so again, this is a HUGE time saver. It's a feature I really appreciate them taking the time to do.
They have new catalogues being added every day now, so if you're not picky about the types of products you're reselling, you could literally bypass contacting companies now to get this information and just browse through the new catalogues listed each day to see if anything might be a good fit for what you'd like to resell.
9. Additional Tools For Contacting Suppliers (New for 2017)
One of the challenges of trying to reach a new supplier can sometimes be finding the best person to contact and the best method to contact them. Previously I would call a company and let them know I was interested in becoming a reseller and wanted to know who the best person to speak with would be. Sometimes I got the right person right away, sometimes they would transfer me to the correct person but then I'd get their voice mail. So if they didn't call back within a day, then I would try calling them again and getting an email address if possible. But other times when I'd call they would just pass along my information and I'd just hope I'd hear back from them.
Salehoo has helped bypass this process by implementing a way to contact suppliers directly from within Salehoo. So it takes the time and guesswork out of figuring out who to contact and how to contact them.
10. New and Trending Suppliers List (New for 2017)
This isn't what I consider a necessary feature but it's another way to find a new supplier that you may have not otherwise noticed or thought to look for. For example, the trending suppliers can give you insight into suppliers that are becoming popular to work with. Even though they may not be in an industry you're as familiar with or interested in, I've found it can be a great way to learn about new products that I might like to try and resell.
The same can be said about the new suppliers list. And what's nice is this is constantly being updated. For example, in the past three months they've added 210 new suppliers to the directory.
11. Manage Supplier Messages Within Salehoo (New for 2017)
There is now a facebook-style messaging system you can use to see all your messages to and from suppliers. This is actually REALLY convenient because in the past, I would often have to do a search through my emails to find a particular message or response from a particular supplier. And sometimes I didn't have the exact search phrase I needed so I would be pulling up more emails than I needed to filter and sort through.
But with this messaging system, you can have everything in one place so your entire history with every supplier you've contacted is easy to see at a glance.
Reasons Not To Join Salehoo
As I mentioned earlier, I believe this membership EASILY pays for itself may times over. That being said, there are a few reasons joining Salehoo may not be a good fit for you.
First and most importantly is having proper expectations. I think some people join Salehoo thinking that every company listed in the directory will be a gold mine that they can buy products from and then sell on eBay or Amazon for a profit. While there are certainly companies in Salehoo that you can do this with, some of the companies offer what I call "retail discount pricing" which is more like a 10-20% discount off what you'd normally pay. While this could work for someone who has their own online or brick and mortar store, the margins may not work for someone who strictly wants to sell on eBay or Amazon.
Personally, I'm glad Salehoo includes these companies in the directory for a couple reasons. First, if I were to come across this company just searching in Google, I would have most likely had to contact them to clarify what they can or can't do as a drop ship company as well as get a sense of what their pricing is like. But if they're in Salehoo, a lot of that information will already be there which can save me a lot of time.
Just keep this in mind if you come across companies like this. It's not that Salehoo is a scam or worthless, as they're are still LOTS of companies that provide true wholesale pricing.
Something else to realize is that it will more than likely take work to find companies you like and will want to work with. Early on I remember reading one of the featured articles that an eBay Powerseller wrote about how she contacted 100 companies before finding 1 or 2 that she was happy with. That helped me to have some proper perspective as I was getting started. It kept me from getting discouraged and frustrated during the first week or two as I realized it was all part of the process.
And as I mentioned in the beginning of this review, it took be about three weeks to find those first two companies. Had I given up during the first two week I would have totally missed out.
My Overall Thoughts and Impression
So the bottom line is that if you look at Salehoo as a resource or tool that will help you find those great companies to work with, then you'll most likely really benefit by joining. Don't think of joining Salehoo as a "done-for-you" drop ship program where all you have to do is just list products and make money.
You still have to do the work of finding those companies you want to work with. But the process is made MUCH easier by joining and not only that, but you'll probably find companies to work with that you more than likely would have never found on your own just trying to Google them.
Having all these wholesale companies in one place saves so much time and as I've said before, a lot of these companies i would have NEVER found just searching for them in Google.
If you're just getting started with reselling then this membership could be a huge benefit as you'll not only have an enormous list of companies to start contacting and working with, but you also have the additional research tools and educational area to help you get up and running that much faster.
For someone who's more established as a reseller, I think the benefits of joining are still worthwhile because of the time saved. For example, if there's a new company I hear about or come across on my own I can check out Salehoo to see if they are listed in there and if so, get some immediate information about that company. If I don't like what I see, then I just saved myself the time of contacting them for more information and I can move onto the next company or project that much faster.
Likewise, sometimes I'll hear about a particular product online and think, "hmmm… I wonder if that's a product I'd like to try and resell." Once again, I can quickly check out their directory for possible companies to contact that have this product, maybe send some emails to get some pricing and I'm done. I just saved myself the time of having to try and find these companies in Google (if I would have found them at all).
For someone like me, although I'm not using SaleHoo every day, I love having it as a resource because when I do use it, the time and energy it saves me is well worth it. Not to mention I do a better and more thorough job of exploring a possible product opportunity.
And if you have any comments or questions, please don't hesitate to post those below! 🙂